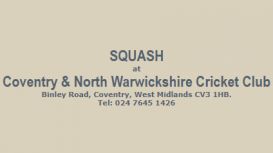 Coventry & North Warwickshire Cricket Club was established in 1851. Our ground at Binley Road boasts some of the best facilities in the county. The club owns its own grounds and clubhouse which are held in trust for the members by four trustees.
Our Squash section was formed in 1935 and as the club is in the unique position of being owned and run by the members. This creates a special type of atmosphere of which we are very proud.
The club has for many years, retained the services of a professional coach, which is one of the reasons why it has been so successful over many years, providing players at all levels for the Midlands Teams.
We pride ourselves on developing players from young beginners to national level. Coaching is available for new beginners or experienced players from our coach Mo Sarwar who is one of the highest qualified coaches in the country.
Reviews and Ratings
We do not have any reviews about Coventry and North Warwickshire Squash Club available right now.